Katharina Arndt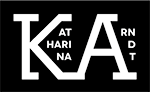 menu
hot guys, hot chicks, hot pants
August 11, 2023
soloshow @ RedD GALLERY | Greece
opening 12.08.23 | 8pm
hot guys, hot chicks, hot pants
During her stay in Chania as part of the RedD Gallery Residency Program Katharina Arndt got a good taste of the local experience. When the weather was cloudy she'd spend her day wandering around the Venetian streets of the Old Town looking for stray cats to pet. On the sunnier days she went on road trips to popular beaches, ate at Greek restaurants, and enjoyed large cocktails with friends.
In the large diptych painting "Eleni driving like a maniac " Arndt tells the story of a road trip to Elafonisi beach. On one side we see a landscape; wild goats scattered around a mountain side, narrow roads running along dangerous cliffs, and a small tunnel that goes straight through the mountain to lead to a beach that shows us a hint of pink sand and turquoise water. On the other panel, a group of friends sit in a car driven by Eleni; Arndt sets herself in the passenger side, she appears to be wide-eyed and terrified, in the backseat Denia and Thomas are smiling happily along for the ride.
On the painting across the room sits a very familiar Mediterranean setting titled "Greek restaurant ". A group of friends sit around a table full of food and drinks, in the center of the table we see a bottle of 'tsikoudia' aka 'raki' in the rest of Greece. This traditional strong drink is offered in most restaurants in Crete at the end of the meal and it's usually accompanied with some kind of complimentary dessert. Like with every group of friends placed around a dinner table, her protagonists have assumed their roles at the table; one is taking photos of the food, another is smoking a cigarette and chatting away, someone is pouring the wine, and the other is enjoying eating.
On the wall opposite we notice three portraits "Denia being hot #2 ","Big Mama with baby at Elafonisi", and "Critically checking her tanning results". "Denia being hot #2", presents a woman in her 30s looking stress free and fabulous, she's relaxing on a sunbed in a fancy kimono drinking iced 'Fredo' coffee. In "Big mama with her baby" we see a smiling young mother in a bright orange swimsuit proudly holding her baby in its yellow matching set, it's safe to assume this is their first swim together in the translucent turquoise waters. Next we move onto "Critically checking her tanning results", here we see a woman in a leopard print bikini Arndt spotted at Gialiskari beach in Paleochora inspecting her tan lines. What is interesting about these three women is that they're all very clearly all in very different stages of their lives, and yet all seem to be enjoying their time at the beach.
On the red wall we see a selection of five works on paper: "Hot greek guy with British girlfriend", "Dirty Martini", "Posing for Instagram", "Hot chicks", and "He kisses her goodbye". Each sketch tells us a different story, from the attractive tanned man smearing sunblock on his pale girlfriends back in order to make sure she doesn't burn, the woman drinking an olive filled glass of strong gin after a long day, the friends posing for social media while positioning themselves in ways to achieve maximum levels of attractiveness, the fancy women dressed to the nines on their way to dinner at one of the popular local restaurants, and the young couple so deeply in adolescent love that every moment together feels like it's simply not enough.
What we see in all these faux naïf works by Arndt is the simplification of her two week experience in Crete. She breaks her memories down to an overall impression rather than focusing on insignificant details, like brand names. However, despite the simplicity of the nature of her works she still manages to maintain a realistic narrative by including details in her female protagonists images such as razor burn and arm hair, whereas we know that natural body hair is marketed as especially undesirable and unflattering to women by the mass media.
Words by Denia Kazakou
Director and owner of The RedD Gallery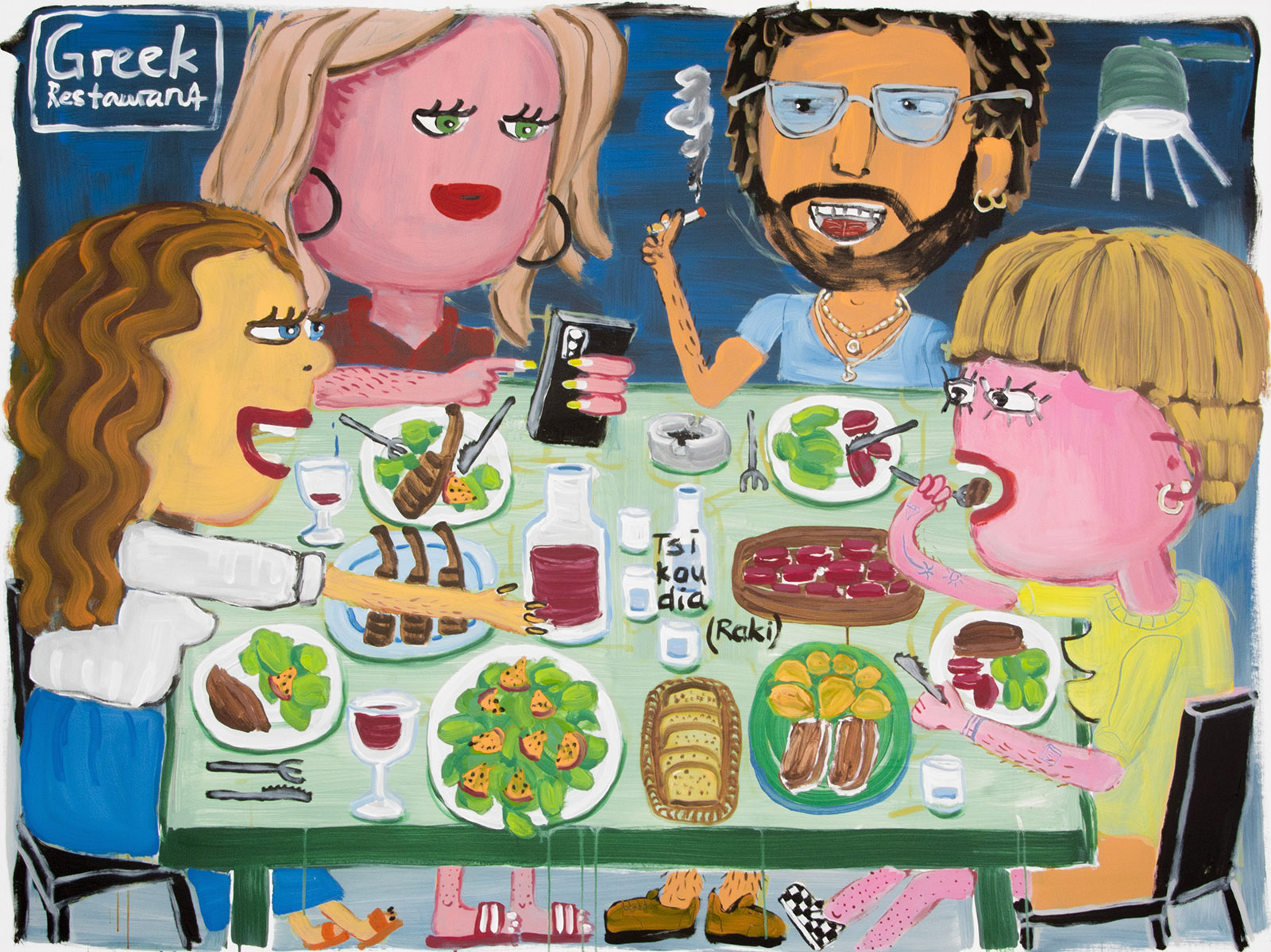 "Greek Restaurant", 2023, 140x190cm, acrylic paint on canvas
---
INSTALLATION SHOTS
---
available artworks
please contact Denia Kazakou, deniakazakou@redd-pr.com
download PDF
---
Duration
12.08.-30.09.2023
Gallery Hours
Tuesday – Saturday 8-12pm & by appointment
---
Location
RedD gallery
Daskalogianni 14A | Chania Crete
Denia Kazakou, deniakazakou@redd-pr.com
redd-pr.com